Havanese Puppies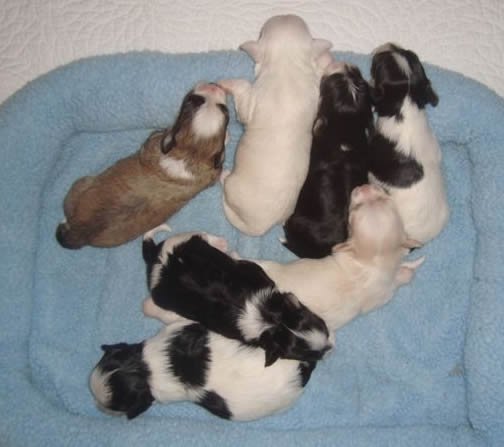 Please contact me for puppy availability.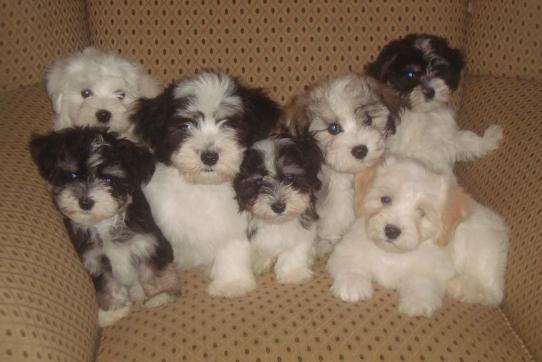 Please contact me for more information.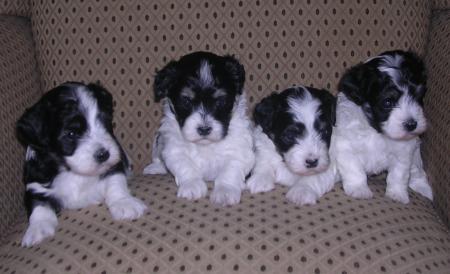 Picture of typical Ohana puppies
If you are interested in an available havanese puppy or have questions, please fill out our puppy questionnaire
AN ETHICAL BREEDER WILL
. 1) Provide assistance and encouragement shall be willingly offered by members to show novices and others needing advice and guidance. The welfare of the breed will be in their hands in the future.

. 2) Make sure all dogs will be kept under safe and sanitary conditions, be given maximum health care and protection, including regular inoculations and proper nutrition.

. 3) Puppies will not be sold or consigned to pet stores, agents, or other commercial enterprises nor sold to disreputable breeders, and neither puppies nor stud services will be offered as prizes or for raffles.

. 4) Prospective buyers will be screened as thoroughly as possible to determine their intent, as well as their ability and interest in providing a safe, adequate, loving environment and a long term relationship with a puppy or adult dog.

. 5) All puppies and dogs offered for sale will be sold with written sales agreements to include clear terms and conditions and be signed by the seller and buyer. The contract will request that the seller be contacted in the event that at any time the owner is unable to keep the dog, it will be the obligation of the seller to assist in the placement of the dog in question. All Deposits are NON Refundable. Do not hold a dog , then change your mind and expect the breeder to compensate your rushed choice in your decision making, This is a animal not a toy , or a throw away item as the world is filled with " throw away " as it is.

. 6) Purchasers will be required to neuter/spay all puppies sold as pets.

. 7) All puppies leaving the breeders possession will be a minimum age to facilitate adequate socialization as well as appropriate emotional and temperament development through interaction with siblings, dam and other dogs.

. 8) Breeders will provide puppy buyers with written details of feeding, general care, date and types of a minimum of two (2) inoculations, as well as dates of worming, grooming instructions, etc. and be available to offer future advise as needed.
BUYING FROM A PET STORE
ALL pet shops that sell dogs acquire their animals from puppy mills. It is easy for a store to claim, "We got this dog from a local breeder". This simply means that the "local breeder" is a puppy miller. No responsible/ethical breeder will sell to a pet store. And "local" can mean a region of the country...not just where you live. If your puppy ends up with genetic problems down the line, the pet store will not help you. When you have difficulty with housebreaking, the pet store will not be there to take your call at 10 at night. When your puppy/dog gets runny eyes or is acting strangely, the pet store cannot help you or give reliable advice. The pet store is only concerned about one thing...money. After the sale is completed you are on your own. Occasionally there will be a warrantee. Do not be misled. The warrantee will only cover certain stated items...nothing else!Pet stores do not care about the puppies or about the consumer.
They only care about profit. Pet stores cannot tell you any personal stories about the parents of your puppy, nor can they tell you about the grandparents. You cannot call pet stores to tell them stories about your puppy like its first experience with an obedience command. You cannot bring your puppy to visit its parents nor do pet stores care if you bring a puppy back in for them to see (unless, of course, you're coming back to buy merchandise).The sad news is in the "behind the scenes" life of these pet store dogs. The sad news is in what the customer does not see. EVERY purchase of a pet store puppy condemns that puppy's mother to a life in hell. No justification can be made by thinking that you might be "saving" a puppy. What actually happens is that you have just purchased a female animal's continued misery. These pet store dogs are not whelped in warm kitchens, they are whelped in cages. They live their entire lives in a cage, sometimes in crowded and cramped conditions. These dogs were not brought into the store via a Mercedes, but in TRUCKLOADS... packed-in, just like old furniture and delivered as merchandise. How horrible for a puppy to be ripped from it's mother at 6/7 weeks of age, stuffed in a cage with other puppies and shipped off like chickens. I can only imagine the fear these poor babies must live through.
The maternal instinct is just as strong in dogs as in people and to have a whole litter prematurely ripped from a mother's side can have devastating and permanent emotional effects on both the mother and puppies. With every pet store puppy purchase this practice is perpetuated. The breeders do not care about these dogs, they care about how much the broker is going to pay them. Ask the "rescue" people about the condition of all the dogs they see coming from impulse buyers and puppy millers. Ask the folks who go to auctions on weekends where these dogs are displayed like cattle...some whelping right in front of "buyers". It's ugly and disgusting. Again, my purpose is not to criticize...just to educate about the cold hard reality of just what purchasing a dog from a pet store really means. Rescue individuals get plenty of rescued "pet shop dogs" that people bought and some even saying that they "saved" them from the pet shop.
Please consider Havanese Rescue (HRI) where you will find a Havanese waiting to love you with all it's heart.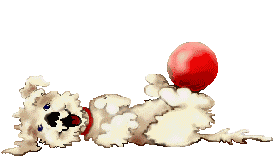 Click on the shaggy puppy above to be taken to our Puppy Questionnaire

Home | Our Havanese Dogs | Our Puppies | Past Puppies | Information | Favorite Links | Contact Us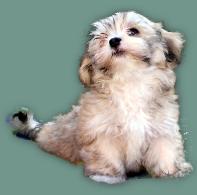 Copyright © OhanaHavanese.com
All rights reserved
Designed by Gerlinda.com